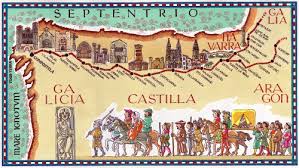 A former electrician for the Cathedral in "Santiago de Compostela" in Spain, is on trial for the alleged theft of a priceless 12th-century religious artifact.
The "Codex Calixtinus" is considered to be the first guide – for Christians making the famous pilgrimage to honour St. James the Apostle.
Jose Manuel Fernandez Castineiras appeared in court in Madrid today – with his wife and son. Spanish authorities say they found the Codex in the man's garage in 2012 – and recovered $1.4 million.
Castineiras's lawyer is arguing that some evidence should be thrown out : including a confession by Castineiras – and a security video that appears to show him in a Cathedral office – stuffing money into his pockets.
The pilgrimage across northern Spain to the Cathedral was inspired by the reputed discovery of the Apostle St. James's tomb – around the year 800.