Early-childhood educators who work in licensed daycares are getting another $1-an hour this month.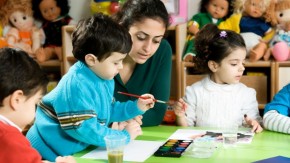 The announcement by the premier follows through on part of the budget that was approved last summer.
This will be followed by another $1-an hour increase next year in an attempt to close the gap and help daycares keep workers from taking school-board jobs.
Since full-day kindergarten, early-childhood educators in classrooms receive $22-an hour to start while those in a licensed daycare get $16.34 an hour.
In making the announcement at St. Lawrence College in Kingston, Kathleen Wynne says their work has not always been as valued as it should be.
The increase is expected to cost the province $269-million over three years.
It does not affect private unlicensed daycares.