Academy Award winning actor Michael Douglas has been named by Israel as the 2015 recipient of the $1-million Genesis Prize award, often dubbed the Jewish Nobel Prize.
The Genesis Prize Foundation said today that Prime Minister Benjamin Netanyahu will present the award at a Jerusalem ceremony this summer to "actor, producer and peace activist Michael Douglas."  The 70 year old actor was selected by a committee that included Nobel literature laureate Elie Wiesel.
A statement by the Genesis chairman says Douglas is being honoured "both for his professional achievements and for his passion for his Jewish heritage and the Jewish state."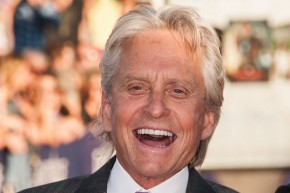 Douglas is seen as an intriguing choice.  His selection may be criticized by ultraconservative Jews.  His father, Kirk Douglas, who was born Issur Danielovitch, is the son of Jewish immigrants from what is now Belarus.  Michael Douglas' mother, Diana Dill, is not Jewish, and he was not raised in the faith.  Douglas embraced his Jewish identity later in life and last year traveled to Jerusalem to celebrate the bar mitzvah of his son Dylan.
Former New York Mayor Michael Bloomberg was the recipient of the prize last year, the first time it was awarded.