An exhibition on the career of the man who brought Canada's longest-running musical to the stage is coming to Toronto.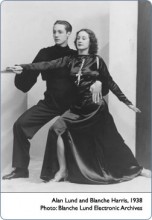 Alan Lund began his career as a dancer in the Thirties and Forties with his wife, Blanche. Together, they were part of Meet the Navy, a show put together to entertain Canadian servicemen overseas during the Second World War. The couple also danced together on CBC TV.
But it was as a director that Alan Lund achieved his greatest fame. He staged the Grandstand shows at the Canadian National Exhibition. And then, in 1965, he directed the first production of Anne of Green Gables at the Charlottetown Festival. Under his direction, Charlottetown became a launching pad for Canadian musicals such as Johnny Belinda, Feux Follets, The Legend of the Dumbells, and musicals based on classics such as Hamlet, A Midsummer Night's Dream, and Jane Eyre.
Alan Lund remained as Artistic Director at Charlottetown for 21 seasons and directed at other theatres around the country. He died in 1992.
An exhibition called Canada's Pre-Eminent Showman: the Artistry of Alan Lund opens on January 17th at the gallery of Dance Collection Danse on Church Street. It runs through June.
There's information online here.