Toronto is going to look a lot different on Christmas this year, than in 2013.  It's been exactly a year since layers of ice brought down trees around the GTA and left hundreds of thousands of people without power.  Two years of freezing rain had fallen in the span of two days.  It began on December 21st and fell until the evening of December 22nd.  Power lines fell across the city, resulting in more than 2800 calls to Toronto Fire Service for downed wires.  Travel was difficult because the roads were slick with ice.  The outage left elderly and vulnerable people without electricity, with heat slowly draining out of their buildings.  This past Friday, a request for $64.2 million was made from the City of Toronto to the province to cover costs of last year's natural disaster.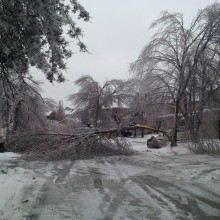 This year, we are expecting a storm for Christmas Eve, but it'll be rainy and mild.  In fact, the temperature on Wednesday is expected to rise to 10 celcius.  Meteorologist Chris Scott at The Weather Network says it's all because of a storm system coming up from the U.S. that will melt away plans for snow on the ground for Christmas.
"It doesn't matter where you are," Scott explains, "from southern Ontario through Quebec into the Maritimes.  So anybody that does still have snow, it's not going to be the same type of morning that you can get out and really enjoy it, because it'll either be so windy or so rainy or a combination of the both that you won't want to be outside for more than two minutes!"
By contrast, the Prairies and the B.C. interior are due for a white Christmas, and there should also be fresh snow in parts of Alberta and Saskatchewan. The Vancouver area can expect a familiar green Christmas.