A 103 year old Florida golfer may have made history as the oldest person to record a hole in one.  The PGA of America announced on its website that Gus Andreone of Sarasota scored the ace this past Wednesday at Palm Aire Country Club.  The group said it's likely that Andreone is the oldest golfer to make a hole in one, beating the previous record of a 102 year old woman in 2007.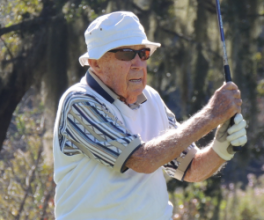 Andreone says the ace marks his eighth hole in one since 1939.  He used a driver on the 113 yard 14th hole of the Lakes Course as he normally does, but then noticed something different.  The ball went straight into the hole!
Andreone received $80 for the accomplishment and says he looks forward to doing it again.
See a report on Gus Andreone courtesy of Tampa Bay television station Fox 13 News.