Sony Pictures has decided to scrap plans to show a film that has enraged the isolationist regime in North Korea.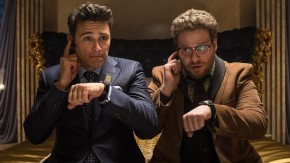 Sony is pulling the Seth Rogen comedy The Interview from movie theatres as more and more theatre chains elect not to take the chance that the terrorist threats might be true.
Canada's Cineplex and the four largest movie chains in the US decided not to show the comedy about an attempt to assassinate North Korean leader Kim Jong Un.
Sony was under intense pressure from other movie companies who were afraid their holiday films might suffer if people were afraid to go to the movies.
Experts say the North Korean regime views Kim as an almost divine figure, and takes great insult in anything that makes fun of him.
A source in the US government says North Korea is behind the cyber attack on Sony and the terrorist threat.
Sony stands to lose some $50-million by not showing the film. It has also lost the respect of many media pundits, and some in the Hollywood industry. Actor Rob Lowe tweeted that "Sony has done Neville Chamberlain proud," a reference to the British Prime Minister remembered primarily for his policy of appeasement of Adolph Hitler.