Are you interested in knowing how many calories are in alcoholic beverages?
New regulations in the U.S. will require chain restaurants to list the amount of calories in beer, mixed or fancy drinks and hard liquor on their menus after next November.  But the rules don't apply to drinks ordered at the bar or to the wine list.
The theory is that people often don't know or even think about how many calories they are imbibing.
After years of lobbying for more nutritional information on alcoholic beverages, public health advocates say the menu labeling rules are a first step.
"Alcoholic beverages are a key contributor to the calories Americans are consuming, and most of the time when people have a drink they have absolutely no idea what its caloric impact is," says Margo Wootan of the U.S. Center for Science in the Public Interest.
The Food and Drug Administration's proposed menu labeling rules in 2011 exempted alcohol.  But FDA Commissioner Margaret Hamburg said the agency decided to include it in the final rules this year after those who commented on the rule were largely in favour of such labeling because of its potential impact on public health.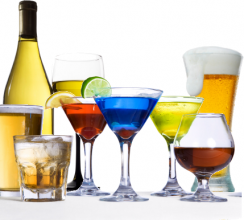 Twelve ounces of beer is 153 calories.  A 5 ounce glass of wine is 125 calories.  A 1.5 ounce measure whiskey is 97 calories.  A dry martini is 139 calories.  A margarita cocktail is 168 calories.  A pina colada is 490 calories.  Calorie amounts sourced from Rethinking Drinking.