After more than 50 years, the U.S. and Cuba will restore diplomatic relations, including embassies in both countries.
This follows 18 months of secret negotiations between them, hosted largely by Canada.
President Obama thanks the Pope, who's celebrating his 78th birthday and Canada.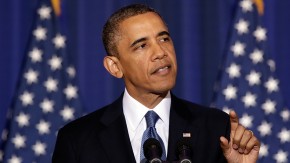 Senior U.S. officials say Canada was "indispensable."
Pope Francis had personally wrote leaders of the U.S. and Cuba and even hosted a secret summit at the Vatican this fall, which they credit with helping seal the deal.
The announcement follows the release of American prisoner Alan Gross, imprisoned 5 years ago while working to set up internet access as a subcontractor for the U.S. agency that promotes democracy in Cuba.
A highly, regarded U.S. spy was also freed.
In return, the U.S. released three Cubans jailed in Florida for spying.
Washington's looking to ease travel restrictions and expand economic ties with Cuba, but the economic embargo will remain in place, unless Congress overturns it.
Listen to the president's announcement