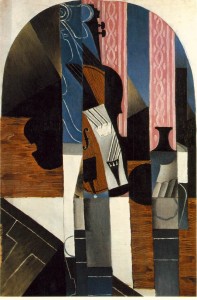 A foundation in Germany wants an expert panel to rule on whether a painting it owns – was looted by the nazis.
The 1913 work is by Spanish artist – Juan Gris.
The state-run Kunstsammlung Nordrhein-Westfalen says its research disagrees with claims by the heirs of Jewish collector Alfred Flechtheim – that the painting belonged to him – when it was sold in London in 1934.
The foundation has requested the Limbach Commission to determine the rightful owner of Gris' painting "Violin and Ink Bottle on a Table," – which it purchased in 1964.
Restitution efforts for Nazi-looted art has accelerated in Germany, since the revelation last year that collector Cornelius Gurlitt had hoarded hundreds of valuable paintings at his Munich apartment- some of which had been stolen from Jewish owners before the Second World War.