The British computer scientist credited with inventing the World Wide Web is calling for affordable access to the Internet to be recognized as a human right.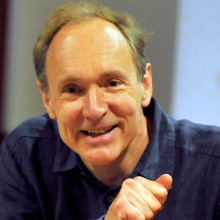 Tim Berners-Lee has released the World Wide Web Foundation's latest report tracking the Internet's global impact.
It says almost 4.4 billion people — most of them in developing countries — still have no access to the Internet.
In addition, government surveillance and censorship are on the rise.
Berners-Lee says the Internet can help tackle inequality, but only if it comes with the rights to privacy and freedom of expression.
(The Associated Press)