A breakthrough by a Canadian-led international team of researchers in utilizing stem cells to treat, or possibly even cure, a number of diseases one day, is being hailed as a game-changer.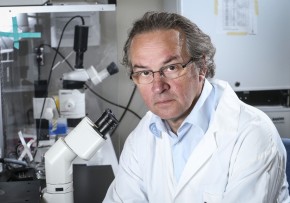 The team, led by Dr. Andras Nagy of Toronto's Mount Sinai Hospital, has created the first high-resolution characterization of the process in which stem cells are formulated from other specialized cells.
Dr. Nagy says stem cells hold enormous promise for treating or reversing conditions like blindness, Parkinson's, Alzheimer's, stroke-related brain damage and spinal cord injury.
Certain stem cells have the potential to become any cell type in the body.
The researchers have also identified new kind of stem cells, called F-class cells, because of their fuzzy appearance.
Dr. Nagy adds they have unique properties that may open up new avenues for generating "designer" cells, which might be safer and more efficient when used in future therapies.