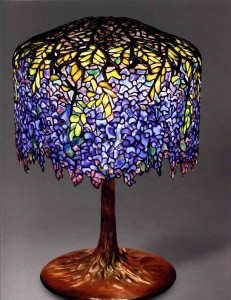 A pair of almost identical Tiffany lamps – could sell for up to $1 million each.
The works are among a group of seven lamps collected by dealer Sandra van den Broek over a 30-year period -and the present owner acquired them over the past decade.
The two wisteria leaded-glass lamps are successively numbered – indicating the 2,000 pieces for each – were cut from the same sheets of glass.
The shade was designed in 1901 by Tiffany Studios artist Clara Driscoll.
The Sotheby's auction features 34 other Tiffany items. Among the highlights is a 25-light lily chandelier which has a pre-sale estimate of $150,000 to $250,000.
Sotheby's is selling the works on December 17th.