Ontarians are paying a lot more for power thanks to a flawed smart meter program.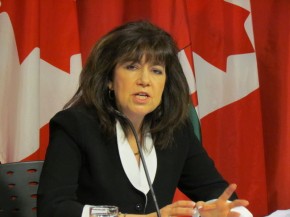 In her just released annual report, Auditor General Bonnie Lysyk found, "although nearly $2-billion of cost, paid by ratepayers, had been spent on this initiative, the targets of lowering peak demand, reducing a need to bring more generating capacity onto the electricity grid, and lowering overall customer bills, are not close to being achieved."
She says ratepayers will pay $50-billion between 2006 and next year because of an extra charge on electricity bills that covers the gap between guaranteed prices paid to contracted power generators and the market price.
The auditor general says public-private infrastructure projects are costing billions more than if they were delivered by the public sector.
As for the controversial MaRS real estate complex, Lysyk says the ultimate costs and benefits are "unclear."
She feels the government needs to strengthen inspection processes and enforcement to reduce serious occurrences at licensed daycares.
The auditor general also says Ontario has no co-ordinated system to deliver palliative care services and does not track costs enough to know the amount spent in this area.
Lysyk will join the New AM 740's Goldhawk Fights Back tomorrow right after the 11am news.