The chair of Toronto's Police Services Board should resign over an anti-police brutality poster that appeared on Alok Mukherjee's Facebook page but has since been removed.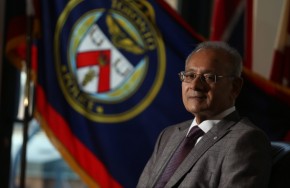 The call to step down comes from the union representing Toronto police officers.
It says in a release, "Mukherjee has crossed the line.  His lack of objectivity indicates he is no longer fit to sit on a police oversight body.  He shared activist group Occupy Wall St.'s poster on his Facebook page which not only compares police officers to terrorists but implies they are in fact far more dangerous.  His sharing of this poster is clearly unprofessional, clearly unethical and clearly seeks to undermine the very people he is paid to oversee.  Mukherjee's obvious disdain for police, apparent lack of judgement and his personal agenda, discredits and compromises the integrity not only of the Board he chairs, but the Toronto Police Service itself."
The Police Association's filed complaints with the premier, solicitor general, the Police Services Board, the Ontario Civilian Police Commission and Mayor John Tory.
Part of a statement Mukherjee released this afternoon reads, "I would like to make it very clear that the item was shared as a topic of interest, intended to encourage conversation and reflection.  It was not intended to be a negative commentary in any way on members of our police service or on our practices.  I have the utmost respect for members of the Toronto Police Service."
This comes in the midst of contract negotiations between the Police Association and Police Services Board.