Two days after slipping on his chain of office, it seems the new mayor also wears a badge.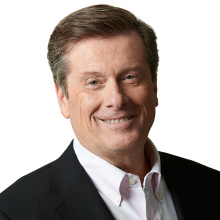 John Tory says "there is a new sheriff in town," when it comes to relieving congestion for motorists and commuters.
Key to his plan is an "aggressive" tow policy for any vehicles that block lanes on major streets during rush hour.
"You're going to see a very substantially enhanced level of activity on their (police) part, as I say I think, as I don't run the police service but they've certainly pledged their complete co-operation to a very vigorous and visible enforcement of the law, including the towing," Tory told the New AM 740's Goldhawk Fights Back.
Starting New Years Day, there'll be "no tolerance" for those who ignore No Stopping signs on busy streets.
Tory adds he'll work with police to move more parking enforcement officers from side streets to key intersections during peak traffic times.
His plan also calls for adding 40 more cameras and 100 more intersections to the traffic signal retiming program list next year.
As for congestion caused by construction, Tory intends to establish more stringent criteria and higher fees for lane closures.
He says the city will push to extend work hours to let crews work from 6am until 11pm where possible.
Tory says there will be a cost, but it's nothing compared to the cost of doing nothing.