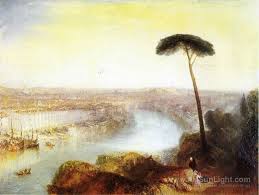 J.M.W. Turner is winning a new generation of admirers – 150 years after his death.
The 1835 Turner oil painting "Rome, From Mount Aventine" has sold for $54 million at Sotheby's in London. That's almost more that 50 percent more than the pre-sale estimate.
It's also a record for a Turner work – at a sale that comes amid renewed interest in one of Britain's greatest artists – brought on by an acclaimed bio-pic.
The soon-to-be-released film "Mr. Turner" by filmmaker Mike Leigh, saw actor Timothy Spall win best actor -from the New York Film Critics Circle – earlier this week.
Alex Bell, co-chair of Sotheby's Old Master Paintings Department says "Rome, From Mount Aventine" – is so well preserved that every fingerprint of the artist, every flick of the brush, every scrape of his palette knife can be clearly seen."