Torontonians can expect a whole lotta shakin' to be going on after John Tory's sworn in as the new mayor Tuesday.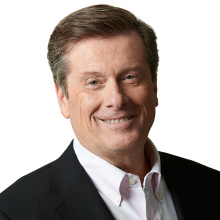 That's when the new council meets for the first time.
It's also when Tory's expected to hand in his list of recommendations for key roles on the standing committees.
He promises, "You will see significant change."
Tory has not said who he has in mind for which committee, but, the talk in the halls is that Denzil Minnan-Wong may get the deputy mayor's job.
A councillor for 20 years, he was chair of the public works committee.
And unlike Rob Ford's 13-member executive committee, which was mostly conservative, Tory envisions an executive more toward the centre of the ideological spectrum.
Tory's picks still must be approved by council.
He intends to take a seat on the police services board and will not reappoint councillors Michael Thompson and Frances Nunziata.
Meanwhile, after seeking advice from the city's integrity commissioner, Tory says he'll declare a conflict of interest at council on anything related to the island aiport given his son's CEO of an airline company based out of Billy Bishop airport.
He'll also declare conflicts on any matter regarding Rogers, where he once served as CEO and his wife's renovation company.