A rare copy of what's called most important book in English literature has been discovered in a small town in France.
A Shakespeare First Folio was discovered in the library of Saint-Omer, near Calais.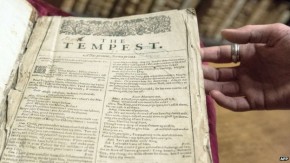 The book is missing a few pages, including the title page, which is why it wasn't recognized as a First Folio. But the library began to suspect its significance, and contacted Shakespeare authority Eric Rasmussen of the University of Nevada. He travelled to Saint-Omer and authenticated the book as a First Folio after five minutes' investigation.
The First Folio was published seven years after Shakespeare's death. It contained 36 of the Bard's works, and was the only source of 18 of those plays, including Macbeth and The Tempest. Only some 230 copies of the First Folio are known to exist.
The last copy sold at auction brought five million dollars in 2006. The Library of Saint-Omer has no intention of parting with its copy.