Before sitting down to sign more bobbleheads of himself at city hall, Toronto's outgoing mayor discussed his cancer fight.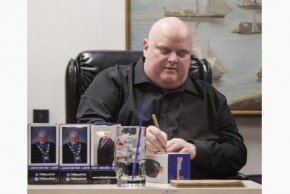 A tired looking and sounding Rob Ford says he's not himself but adds the good news is the tumour in his abdomen has not grown.
He says he doesn't have that fire in his belly but that doctors have told him it'll return but just take time.
Proceeds from the sale of the bobbleheads are going to Humber River and Mount Sinai Hospitals, where Ford's received treatment.
He returns to hospital Monday for another round of chemotherapy.
Asked if he believes is brother Doug should run for the Ontario PC leadership, Ford says, "Yeah.  Absolutely.  He should be putting down his deposit right now … but all the time … he dithers."
Doug Ford says he'll announce his intentions next week.