Richard Johnson might make a subject for a new detective show; one that makes use of the latest technology.
Call him a digital art detective.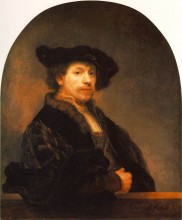 He can literally see right through masterpieces by the likes of Rembrandt and Van Gogh.
Johnson is an electrical and computer engineering professor at Cornell University. He is able to unlock the mysteries of a work of art by analyzing its canvas.
Using high-resolution X-ray images, the 64-year-old academic can actually determine if paintings came from the same bolt of hand-loomed canvas. Each bolt had a varying thread density pattern that made it as unique as a fingerprint. By linking multiple pieces of canvas to the same bolt, Johnson can either shore up or disprove arguments for authenticity and even put works in chronological order.
The unlikely cross-pollination of traditional art history and contemporary computer science is becoming a valuable service to museums and galleries.