The murders of Canadian soldiers Corporal Nathan Cirillo and Warrant Officer Patrice Vincent – on Canadian soil – were likely major reasons for the bigger crowds.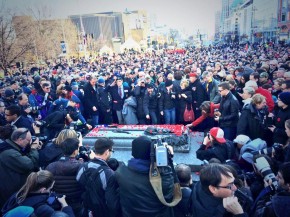 It didn't seem to matter whether it was the sunny, mild temperatures in Ottawa, Toronto and Hamilton – Corporal Cirillo's hometown – or the winter-like readings on the Prairies, Canadians came out in larger numbers this year.

In Ottawa, Prime Minister Harper said we can never repay the debt we owe to the intrepid men and women who paid for our freedom with their lives, but we can remember their enormous sacrifices and pay tribute to their bravery and patriotism.
The prime minister also laid a wreath at the National War Memorial.
The monument was re-dedicated and now bears the inscription "In Service to Canada – Au service du Canada" as well as the dates of the South African War and Afghanistan mission.
The 24-year old reservist gunned down last month at the War Memorial was not mentioned by name but it was obvious Corporal Cirillo was on the minds of all who packed a downtown Hamilton square.
Lieutenant-Colonel Rick Bialachowski says a lot of people can now attach a name to what Remembrance Day is about