There are more damaging but unproven allegations against fired CBC radio host Jian Ghomeshi.  The latest accusations date to his days as a student at York University in the early 1990's.
The Toronto Star's Kevin Donovan has been told by a man named Jim Hounslow that when Ghomeshi was president of the student federation at York U and he was his communications co-ordinator , Ghomeshi "grabbed my genitals and fondled them" while they were waiting for an elevator.  Hounslow explained that he grabbed Ghomeshi's arm, pulled it behind his back and then pushed Ghomeshi hard against the elevator doors.
"I told him, 'You are never to do that again,'" Hounslow recalls.  He says Ghomeshi said the next day he was just playing around and accused Hounslow of being "macho, violent and homophobic."
Kevin Donovan has also interviewed a woman who was a student at York university in those days.  "She says she was called into a meeting by some residence assistants who said Mr. Ghomeshi was causing trouble to women, they should watch out for him in stairwells.  Mr. Ghomeshi was known to play his bongos in stairwells and was allegedly choking women."
Kevin Donovan will be a guest on the New AM 740's Goldhawk Fights Back today after the 11am news.
Ghomeshi is being investigated by the Toronto Police Sex Crimes Unit for violence and sexual assault against three women who've come forward to police with their stories.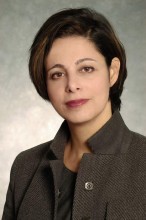 We're also learning this morning that Ghomeshi has hired criminal lawyer Marie Henein (pictured above) to represent him. She has an impressive resume that includes defending former Attorney General Michael Bryant after he was charged in the death of a bicycle courier. She has sat on a panel of lawyers on conducting sexual assault trials. And, last week, she was emcee at a criminal lawyers gala and got big laughs when she said, "As criminal lawyers, we represent people who have committed heinous acts. Acts of violence, of depravity, of cruelty. Or, as Jian Gomeshi likes to call it, foreplay."