A legendary jazz clarinetist has died.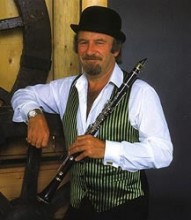 Acker Bilk was most famous for his 1962 hit Stranger on the Shore. He died in his native England after a short illness.
Bilk learned the clarinet as a bored army conscript while stationed in Egypt after the Second World War. He became one of the stars of Britain's traditional jazz scene in the Fifties.
Bilk's real name was Bernard Stanley Bilk. He adopted the name Acker after a local slang term for "friend."
Bilk attributed his distinctive vibrato sound to a pair of childhood accidents. He lost part of a finger in a sledding accident, and two teeth in fight at school.
Acker Bilk was 85.