A 23-year-old pianist from China has captured first prize in the second Toronto International Piano Competition.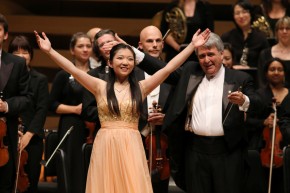 Yang Liu topped an initial field of 20 during the week-long competition that ended on the weekend. In the final round at Koerner Hall, Liu played Tchaikovsky's First Piano Concerto. She and two other pianists performed concertos with the Toronto Concert Orchestra and Maestro Kerry Stratton.
Yang Liu will take home $15,000 US, and receive solo and orchestral engagements. They include an appearance in the Toronto Symphony Orchestra's Piano Extravaganza Festival, as well as one with the Toronto Concert Orchestra.
Second prize went to Rodolfo Leone of Italy. Third prize was won by Rachel Kudo the US and Japan.