Just the two of them – again.
Only John Tory and Olivia Chow took part in the lunch time debate hosted by the Empire Club.
Doug Ford sent a statement out less than an hour before doors opened, blaming the 80-dollar cost of the ticket as the reason for pulling out.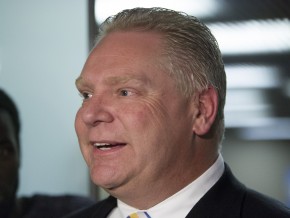 In the written statement, Ford said "I am campaigning to be the Mayor of all people, not the Mayor of the privileged few.  Debates should be open events that any member of the public can attend and ask questions.  How many average, hardworking people can afford to take 3 hours away from work, to come downtown, and spend almost $100 having lunch?"
He continued "I have told the Empire Club that I will make myself available if they'd like to hold another event in the future that is open to the public at no cost."
The move did not surprise either Tory or Chow.
"We shouldn't be too surprised," said Chow, "It's disrespectful."
Tory thinks Ford was afraid to debate, calling him  a "chicken", adding "Colonel Sanders should be looking for him."