George Radwanski has died of a heart attack at age 67.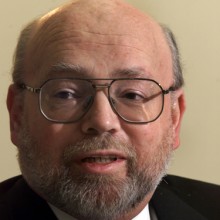 He started out as a reporter at the Gazette in 1969, when he interviewed John Lennon at his bed-in in Montreal.
After moving into political reporting, Radwanski wrote a best-selling biography of former prime minister Pierre Trudeau in 1978 and won National Newspaper Awards for his editorials in 1980 and 1981, before becoming editor-in-chief of the Toronto Star.
He headed an inquiry into education in Ontario and also wrote speeches for Liberal leader and prime minister Jean Chretien.
Radwanski before resigning in 2003 during a scandal over his expenses.
An Auditor-General's report found his spending on hospitality amounted to an abuse of public funds.
The RCMP investigated and laid charges.
Radwanski was eventually acquitted of fraud and breach of trust in 2009.