It's unlikely Rob Ford will be out knocking on doors in his campaign for the Ward 2 council seat ahead of Toronto's municipal election on October 27th.  But the head of his medical team at Mount Sinai Hospital isn't ruling out the possibility that the mayor will be able to continue working and campaigning if he responds well to his chemotherapy treatment.  Doctor Zane Cohen has confirmed that Rob Ford has a very rare form of cancer called pleomorphic liposarcoma.  "This particular liposarcoma is more sensitive to chemotherapy than most sarcomas, Cohen explained at a news conference late yesterday afternoon, "That is an optimistic statement in and off itself.  We can't really say anything more because, we'll be able to say more after the first round of chemotherapeutic treatments."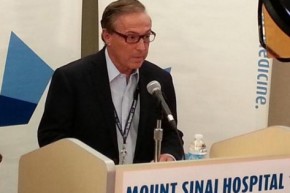 In the next day and a half, Ford will begin two rounds of chemotherapy; each to last three days followed by 18 days of what Doctor Cohen described as a "washout period".  After doctors examine the abdominal tumour again, they will decide whether more chemotherapy is needed or if surgery is required.  Doctor Cohen says there is a second smaller tumour in the mayor's buttocks behind his left hip, but he said a lung biopsy was never conducted as was reported in the media earlier this week.  The five year survival rate for this type of cancer is as high as 59 percent.
News of Mayor Ford's cancer made international headlines and prompted messages of well wishes from local and provincial politicians as well as Prime Minister Harper and mayoral candidates Olivia Chow and John Tory.