The day after we learned of Rob Ford's diagnosis, the Toronto mayor spoke directly to residents, thanking them for their overwhelming support.
Recorded hours before he was to begin chemotherapy, Ford sounded tired and weak as he said the public's support had left him "humbled".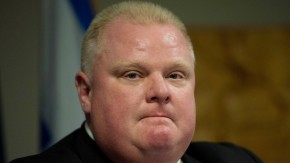 The mayor says it means a lot that so many have reached out to show concern and offer prayers.
He thanks the "amazing" staff at Humber River Hospital and Mount Sinai Hospital for their care and compassion.
"With the love and support of my family, my friends and the people of Toronto — I know I will beat this terrible disease.  I am determined to face this head on and return strong for my family and for my city."
In the statement, Ford also urges voters to throw their support behind his brother Doug, who's running for mayor in his place.