Judging by the waves of thunderous applause and ovations, Petro Poroshenko is a political rock star.
The Ukrainian leader told a joint session of Parliament this afternoon, his country has "crossed the Rubicon" to a new westward-looking future, leaving behind the darkness of its Russian past.
Poroshenko repeated thanked Canada for its unwavering support, not just in recent month but over the years.
He calls Canada, "the most Ukrainian country outside Ukraine."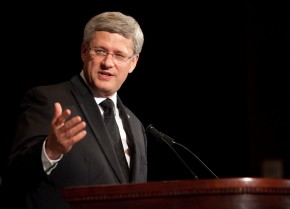 In his own speech, Prime Minister Harper condemned Russia's aggression, saying the standoff between the two countries is no longer just an international crisis, but a "personal" matter.
During a private meeting earlier, Harper pledged another $3-million in humanitarian assistance to help Ukraine deal with the nearly 4-million living in areas affected by the violence, as well as those who've been displaced.