It's one of the most recognizable bikes of all time.  The Captain America motorcycle Peter Fonda rode in the film Easy Rider is going up for auction.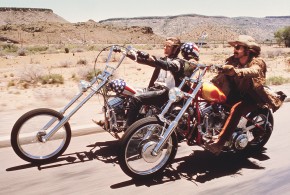 The Harley-Davidson could bring between $1-million and $1.2 million dollars, according to Profiles in History auction house spokesman Joe Maddalena.  "This is the bike that's the symbol of that 'Born to Be Wild', get on the motorcycle, blaze the trails," Maddalena remembers, "It's the anti-establishment.  It's everything about America that was great in the 60's and the 70's and it just speaks that whole world."
The seller is Michael Eisenberg, a California businessman who once co-owned a Los Angeles motorcycle-themed restaurant with Fonda and Easy Rider co-star Dennis Hopper.
(The Associated Press)