Bob Crewe, who was key to the success of the 1960s pop group, has died at age 83.
The songwriter suffered complications after a fall four years ago and died at a nursing home in Maine.
The New Jersey-born Crewe began his career in the 1950s.
When he met the Four Seasons, he produced their first number one hit, Sherry.
Crewe and Bob Gaudio, the group's keyboardist and backup singer, also co-wrote Walk Like a Man, Rag Doll, and Frank Valli's solo hit Can't Take My Eyes Off of You.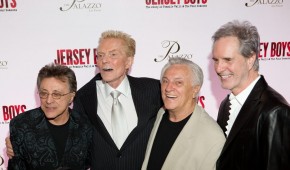 (left to right, Frankie Valli, Bob Crewe, Tommy DeVito, Bob Gaudio)
Crewe and Gaudio also wrote The Sun Ain't Gonna Shine for The Walker Brothers and Silence Is Golden for the Tremeloes.
Both this year's film, Jersey Boys and the Broadway musical of the same name featured a character called Crewe, based on the songwriter who was inducted in the Songwriters Hall of Fame in 1992.