Ian Paisley, the Protestant firebrand who devoted his life to thwarting compromise in Northern Ireland but became a pivotal peacemaker in his twilight years, has died. He was 88.  His wife Eileen announced his death today.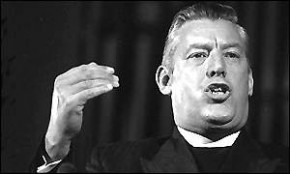 Paisley was Northern Ireland's most divisive politician for four decades. The bombastic evangelist spurred Protestant clashes with 1960s Catholic civil rights marchers, demanded the defeat of the Irish Republican Army, and denounced the Good Friday peace accord of 1998.
But after the IRA disarmed, Paisley in 2007 stunned the world by forming a unity government alongside a former IRA commander as the Good Friday pact intended. He retired after putting Catholic-Protestant co-operation on solid ground.
(The Associated Press)