Rob Ford has been admitted to Humber River Hospital for a suspected tumour.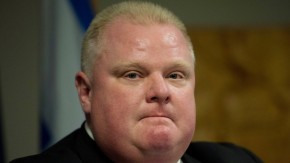 Hospital CEO Dr. Rueben Devlin says the 45-year old mayor had been complaining of abdominal pains for over three months and became unbearable in the last 24 hours.
The hospital president adds a CT scan shows a tumour in his lower left abdomen.
However, a biopsy still needs to be done to determine what kind it is and whether it's malignant or benign.  
Results are expected this week.
Doug Ford, the mayor's re-election campaign manager, won't comment now on whether his brother will remain on the election ballot.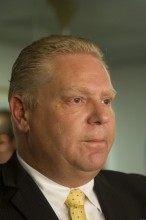 He's asking that the family be left alone and promises to have more to say in a day or so.