It turns out Dr. Oz's endorsement of green coffee beans for weight loss is baseless.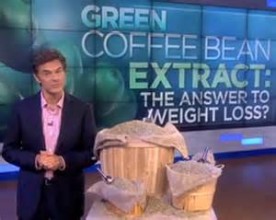 The Texas based company Applied Food Sciences has settled U.S. Federal Trade Commission charges that it used the results of a flawed study to make baseless weight loss claims about its green coffee extract to retailers, who then repeated those claims in marketing products to consumers.
The FTC complaint alleges the study was so hopelessly flawed that no reliable conclusions could be drawn from it.  AFS used the false research to claim green coffee extract resulted in weight loss of 10 percent of body weight without diet and exercise.
The settlement requires the company to pay $3.5 million and to have scientific substantiation for any future weight loss claims it makes, including at least two adequate and well controlled human clinical tests.