One of the lost vessels from Sir John Franklin's doomed expedition in the Arctic has been found.
The Prime Minister's Office confirming it the day after a team of archeologists found a tiny fragment from the expedition – the first Franklin artifact found in modern times.
An iron fitting that once helped support a boat from one of the ships in the King William Island search area.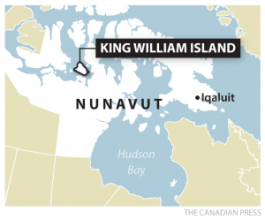 A team, using a remotely operated underwater vehicle recently acquired by Parks Canada, has found one of the two lost ships from that expedition.
H-M-S Erebus and H-M-S Terror and their crews disappeared during Franklin's 1845 quest for the Northwest Passage.
The ship is 11-metres below the surface, and the sonar image shows some of its deck structures are still intact, including the main mast, which was sheared off by the ice when the ship sank.
The subject of many searches throughout the 19th century, the mystery of what happened to John Franklin and his crew has never been solved.