Comedian Jon Stewart is in Toronto to premiere his film Rosewater about the true story of Iranian-Canadian journalist Maziar Bahari and his five month imprisonment in Iran.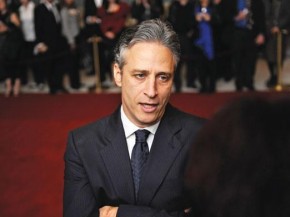 The brutal detention followed Bahari's appearance on Stewart's satirical news program The Daily Show.  "Obviously there was a connection we had with the show, but it was from getting to know Maziar, from reading the book, and being incredibly taken with the source material, but also his level of insight and humour and humanity and the hope to do that kind of story justice," Stewart explained on the red carpet during the Toronto International Film Festival, "and it was an important story for these times when journalists face incredible obstacles for the crime of filming."
Stewart and the political activist bonded over a shared desire to turn Bahari's book Then They Came For Me into a feature film.  The 2011 memoir details the intense physical and psychological torture Bahari endured in prison and paints his rosewater-scented captors as prisoners as well.  Bahari calls Jon Stewart a very intelligent person and says he knew that even if he failed miserably in his directorial debut, his failure would be much better than the best work of many other people.