There was some excitement yesterday at Rob Ford's campaign office, but for all the wrong reasons.
A 43 year old man was arrested in connection with an alleged assault at the mayor's campaign headquarters but was then released.  Later, a 60 year old Ford campaign worker named William Byer surrendered to Toronto Police and has since been charged with assault, mischief and one count of theft.
Paul Benoit runs a website called Crucial Matters.  He says his camera was recording when he went inside Ford's campaign office while wearing a Rob Ford mask.  The audio from the video he recorded has him being asked to put the camera away and get out of the office.  Benoit says he was backing out of the office when one of the volunteers pushed him quite hard, kicked him and kicked his camera out of his hands.  He says he was also hit in the face and received some shots to his back.
Meantime, both Rob Ford and John Tory are touting their individual transit plans as being the solution to solving Toronto's gridlock problem.
Mayor Ford was out campaigning door to door again last night to promote his vision for 32 kilometres of new subway track at a cost of $9.1 billion.  He plans to pay for it with funding options, not taxes.  These include the sale of assets along the proposed transit corridors.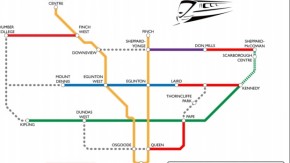 Murtaza Haider is the associate dean at Ryerson University's Ted Rogers School of Management.  He's skeptical of Ford's funding proposals.  "So the question is, once you build those lines and the commercial development doesn't happen, then what?" Haider asks. Haider also says he doesn't know "how Ford can say with a straight face that he can construct 32 kilometres of subway for $9 billion."
Ford's main rival John Tory told The New AM 740's Goldhawk Fights Back, when it comes to transit planning he wanted to do something bold, "and when I asked people who helped me put policy together what is the kind of transit option that could get the most done the fastest to affect the most people positively, the answer was SmartTrack because it uses existing Go Train tracks to put a subway like service on there every fifteen minutes that doesn't have anything to do with the roads or traffic.  It's running on Go Train tracks.  And so I think it was an idea that has a lot of appeal to people, and think that's one of the reasons I'm doing quite well."
Tory is currently 14 points ahead of Ford in voter support and 16 points up on candidate Olivia Chow, according to the latest Nanos Research poll.