Toronto mayoral hopeful Olivia Chow pledges to make the city's land transfer tax "more progressive."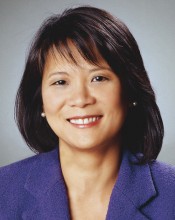 If elected in the October municipal election, she vows to add one percent to the tax on homes and condos that sell for over $2-million.
Pointing out there are about 500 such transactions every year in the city, Chow says that would mean an extra $20-million for the city which she'd put toward transit improvements.
She says she's committed to a downtown subway relief line, increasing bus capacity by 10 percent and spending $2-million more a year on student nutrition programs.