They began lining up before sunrise at a park at the end of an Etobicoke street in the Royal York – Lawrence neighbourhood.
But no one's going home disappointed as on previous occasions when they ran out.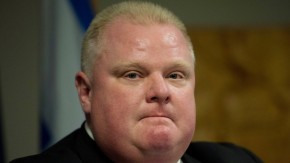 Toronto Mayor Rob Ford has spent Labour Day signing boxes of lookalike bobbleheads since around 10a.m.
They cost $30 each with the Ford family promising to match the donations with proceeds going to the new Humber River Hospital at the 401 and Keele.
Not only is this holiday considered the unofficial end of summer, it's also believed this is when the election campaign really begins.
"It's going to be the biggest election in Toronto's history.  We're going to have a record turnout and I just can't wait until October 27th and the people  have their say.  And we're going to move on for another four years and God willing another 14 years."