Zoomers remember well the sound of a manual typewriter.   An app for the iPad that tries to recreate the nostalgic sense of typing on a manual typewriter was the top seller in the United States last week.  The Hanx Writer is the brainchild of Oscar winning actor and collector of vintage typewriters, Tom Hanks, who says he uses typewriters daily and has even written several screenplays with the vintage devices.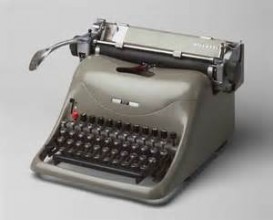 "In the late 70s I bought a typewriter – portable enough for world travel and sturdy enough to survive decades of 10-fingered beatings," Hanks states in a note shared in the app.  "I've since acquired many more, each different in design, action and sound.  Each one stamps into paper a permanent trail of imagination through keys, hammers, cloth and dye," he writes.
The app allows users to type emails, letters and stories on a virtual typewriter, accompanied by the sound of clanking keys as each character appears on the page beneath the type hammer. The free app includes one style of typewriter with two more on offer featuring different sounds, visuals, ribbon colours and other features at $2.99 each.