The international laser display "Global Rainbow" is coming to Toronto's all-night arts festival in early October.
It'll cast beams of colours up to 60 kilometres.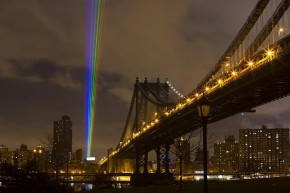 Created by New York artist Yvette Mattern, it's been displayed in cities around the world the past five years.
The laser lights use little power, about the equivalent of two hairdryers.
The sunset-to-sunrise festival will feature over 120 projects by nearly 400 local, Canadian and international artists.
The ninth edition which goes October 4th-5th will also expand into new neighbourhoods, including Chinatown, Fort York and Roundhouse Park.