The mayor of Milton, Ontario is poised to become the next Hazel McCallion.  Gordon Krantz has been the mayor of Milton since 1980, making him the second longest serving mayor in Ontario next to McCallion who's been serving Mississauga as mayor since 1978.  Mayor Hazel is stepping down in October at the age of 93.  77 year old Krantz is running unopposed this fall.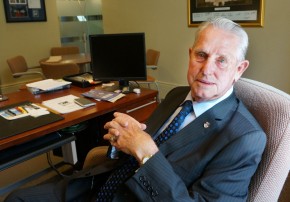 (photo credit: Toronto Star)
Krantz says he counts McCallion among his friends. He has lived in the Milton area all of his life.  His wife of 56 years can see his office window from the front porch of their home.  Milton has a population of more than 100,000 and has been the fastest growing municipality since the 2006 census.  It was Mayor Krantz who championed a deal to build the multi-million dollar big pipe to bring water in from Lake Ontario.  That led to the housing boom and a population explosion in Milton, from 33,000 at the time to 56,000 by 2005.