Much-loved Cape Breton musical icon, fiddler Buddy MacMaster has died at age 89.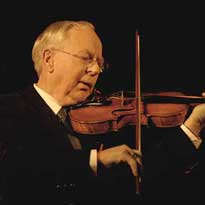 He's credited with helping inspire a new generation of fiddlers, including Ashley MacIsaac and his niece, Natalie MacMaster.
She says her uncle leaves behind the gift of his music and its lasting imprint on the Cape Breton fiddling style.
MacMaster adds both his music and the manner in which he lived influenced her.
He was born in Timmins but grew up and lived in Judique, Nova Scotia.
Buddy MacMaster, who was awarded the Order of Canada in 2000, is credited with leading a Gaelic renaissance in the country and beyond.