A comment on Twitter that called Toronto mayoralty candidate John Tory's transit plan "segregationist," may have been deleted but won't go away.
The person who wrote it, Warren Kinsella, has apologized to Tory in an e-mail.
However, Tory says if he was sincere he would have made it public.
Kinsella, who works for Olivia Chow's mayoralty campaign, is considered by many to be a key cog in her efforts to become mayor.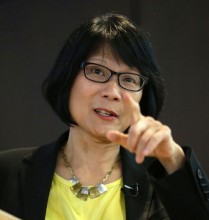 She tried to distance herself from Kinsella calling him one of her "thousands" of volunteers.
Tory disagrees, pointing out Kinsella is not someone "who kind of wandered into her office to put some stamps on envelope."
Tory says Chow is not showing leadership by refusing to accept responsibility for Kinsella's actions, "You got a choice here – you can cut Mr. Kinsella and his comments loose and declare them for what they are, which is dirty politics and completely unacceptable, or you can cut him a cheque.  But you can't do both."