The city of London is bringing some of its storied history to life.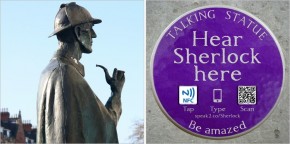 The streets of both London and Manchester are filled with statues of famous characters from fact and fiction. And several of them are prepared to speak to visitors.
Peter Pan, Sherlock Holmes, Isaac Newton, and some three dozen other historical and fictional characters are coming to life thanks to a new interactive project that gives them a voice to tell their stories.
Passers-by can swipe their smartphones on a tag, or type in a web address, to get an instant phone call from the characters depicted.
Several British actors perform the monologue, including Patrick Stewart and Downton Abbey's Hugh Bonneville.
Here's an excerpt of Sir Patrick Stewart as the Unknown Soldier.
Here's actor Simon Russell Beale as Sir Isaac Newton.
And Prunella Scales as Queen Victoria
The statues will keep talking for a year. Organizers hope to bring them to other cities.