The war in Eastern Ukraine is causing an escalating humanitarian crisis.  Ukrainian military officials say pro-Russian rebels killed dozens of people yesterday when they attacked a caravan of cars carrying refugees trying to flee war ravaged Eastern Ukraine.  Rebel leaders deny there had been at attack at all, but the U.S. confirmed the shelling of the convoy.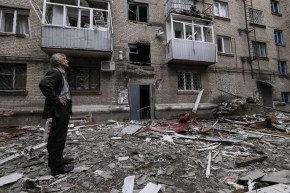 (Destruction of war in Slaviansk, Ukraine)
Ukrainian military spokesman Colonel Andriy Lysenko told a briefing in Kyiv that terrorists had perpetrated a bloody crime by attacking the refugee convoy with Grad rocket systems and other heavy weapons supplied by Russia.  He said many people died, including women and children, adding the assault took place on the main highway leading south out of the regional capital of Lugansk, between the villages of Khryashchuvatye and Novosvitlivka.  This area has been the focus of a government offensive to regain territory controlled by separatists.
If confirmed, yesterday's episode could rank among the most deadly for civilians since pro- Russian separatists began seizing cities and towns in the region more than four months ago.