It doesn't appear as though Premier Kathleen Wynne is about to have a bucket of ice cold water dumped over her.  There are growing numbers of famous celebrities and politicians who've accepted the social phenomenon known as the ice bucket challenge to raise money for Lou Gehrig's disease, otherwise known as ALS.  The premier tweeted yesterday that she and her partner Jane will be personally donating $100 to the cause and urged others to donate by providing a link.
Toronto Mayor Rob Ford had challenged late night TV host Jimmy Kimmel along with Premier Wynne, and Prime Minister Stephen Harper after he had a bucket of ice water dumped on his head.  "It's a great idea, whoever started this and it's going right around the world.  And I hope everyone either gets out there and donates money or puts an ice cold bucket of water over their head," Ford said.  Click here to see Ford's ice bucket challenge.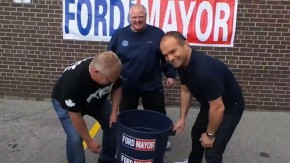 When challenged, participants have 24 hours to either donate one hundred dollars or dump a bucket of ice water over their heads.  People who complete the challenge can nominate three others to take part.  The ALS Association announced yesterday, more than $13-million in donations have been made since the end of July, compared to $1.7 million during the same time period last year.