They do it every August 16th.
This was the 37th time.
Elvis Presley died on this date in 1977 of a heart attack.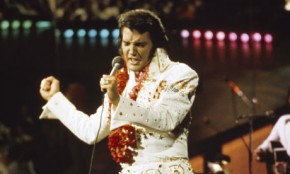 Holding candles, fans of Elvis Presley made a slow, walk past his gravesite at the King's Memphis home.
The grave's in the garden.
The vigil's a highlight of Elvis Week, an annual celebration of Presley's career and life.
This year other events included an auction of authenticated Presley artifacts – among them a 1977 Cadillac Seville – and the groundbreaking of a planned 450-room hotel at Graceland.
His home is now a museum and a centrepiece of the Graceland tourist attraction that draws about 500,000 fans every year from all around the world.