A New York production company is offering an online chance to invest in its latest musical.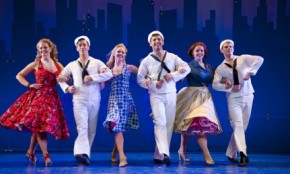 Maxolev Productions is using a variation of crowdfunding to raise money for its revival of the 1944 musical On the Town that features a score by Leonard Bernstein and lyrics by Betty Comden and Adolph Green.
But, unlike most crowdfunding proposals, investors will actually own a piece of the show.
It's not cheap. The minimum investment is $10,000 and investors have to meet other financial conditions.
It's also risky. Seven out of ten Broadway shows don't make back their investment.
Maxolev says it plans to raise most of its $8.5-million budget through traditional Broadway investors. But it hopes the plan will broaden the pool of potential backers for future shows.
On the Town opens in the fall.